I love the new Authority Pro theme StudioPress.
Designed by Rafal Tomal, Authority Pro helps you showcase your expertise and allows you to build lasting trust with your audience.
I like the bold typography and the ease of editing and changing colors in the WordPress customizer. Here is a short demo: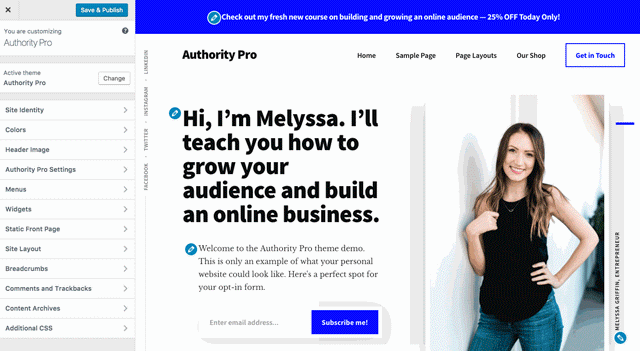 Among the notable features of Authority Pro:
It has a built-in area for your lead capture form to make building your list a simple, integrated part of your website experience.
It has an optional hero image section if you have a compelling image that will capture and keep attention.
There is a built-in section for recent content so your audience can stay up-to-date.
Have a product you want to promote? Authority Pro makes this easy and seamless to integrate.
If you have a special message you want every visitor to see, the call-to-action strip at the top of the page gives you a clear, obvious way to do so.
Other cool things:
The Authority Pro theme also comes with two PSD files that you can use to easily create stylish ebook covers that fit the overall look and feel of the theme.
To set-up your theme, StudioPress includes step-by-step instructions for creating the site. You can import sample content that automically sets the site up and then you change to your own content.
Need help developing your strategy, planning your site, or installing this theme, contact Codewryter today.